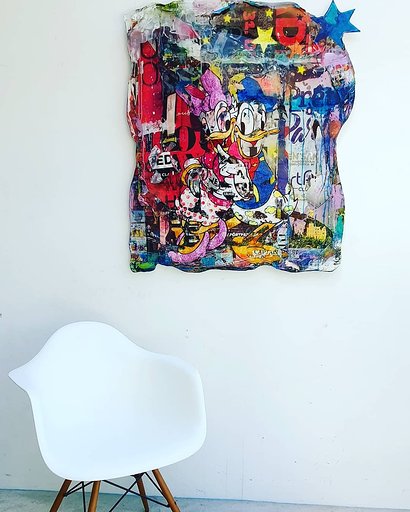 STARS

 Collage auf Dibond, Epoxydharz 
Collage on Dibond, Epoxy resin
Collage sobre Dibond, resina Epoxy
111 x 95 cm
Unikat / Unique piece / Original
Ref. TW0000P3k950-35a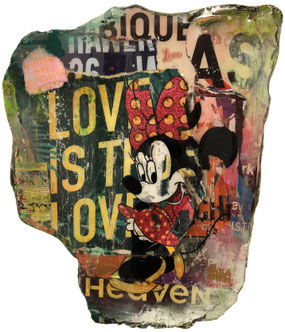 LOVE IS TRUE

 Collage auf Dibond, Epoxydharz 
Collage on Dibond, Epoxy resin
Collage sobre Dibond, resina Epoxy
68 x 55 cm
Unikat / Unique piece / Original
Ref. TW0000P1k5-35a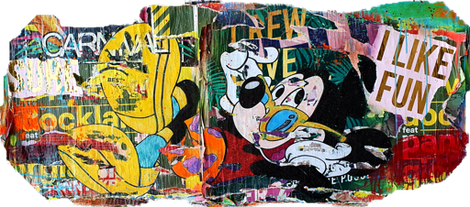 Sure, I like fun

 Collage auf Dibond, Epoxydharz 
Collage on Dibond, Epoxy resin
Collage sobre Dibond, resina Epoxy
75 x 148 cm
Unikat / Unique piece / Original
VERKAUFT / SOLD / VENDIDO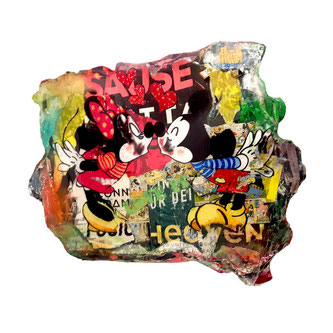 Big Kiss

 Collage auf Dibond, Epoxydharz 
Collage on Dibond, Epoxy resin
Collage sobre Dibond, resina Epoxy
55 x 66 cm
Unikat / Unique piece / Original
Ref. TW0000P1k5-35a 
 Love is true, Minnie  

 Collage auf Dibond, Epoxydharz 
Collage on Dibond, Epoxy resin
Collage sobre Dibond, resina Epoxy
 aprox 55 x 68 cm
Unikat / Unique piece / Original
Ref. TW0000P1k5-35a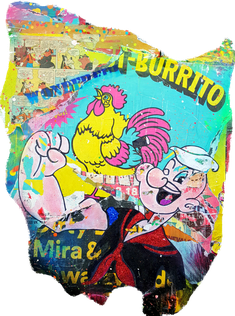 Minicloud BURRITO POPEYE
Collage auf Dibond, Epoxydharz
Collage on Dibond, Epoxy resin
Collage sobre Dibond, resina Epoxy
65 x 55 cm
Unikat / Unique piece / Original
Ref. TW0000P1k2-343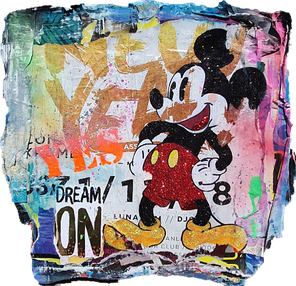 Mickey - Dream On 

 Collage auf Dibond, Epoxydharz 
Collage on Dibond, Epoxy resin
Collage sobre Dibond, resina Epoxy
 aprox 50 x 50 cm
Unikat / Unique piece / Original
Reserviert / Reserven / Reservado 
 Minicloud YES WEEKEND TIN TIN
Collage auf Dibond, Epoxydharz
Collage on Dibond, Epoxy resin
Collage sobre Dibond, resina Epoxy
65 x 55 cm
Unikat / Unique piece / Original
VERKAUFT / SOLD / VENDIDO 
 MICKEY & VERMEER
 Collage auf Dibond, Epoxydharz 
Collage on Dibond, Epoxy resin
Collage sobre Dibond, resina Epoxy
72 X 102 cm
Unikat / Unique piece / Original
VERKAUFT / SOLD / VENDIDO 
MICKEY MIAMI VICE
 Collage auf Dibond, Epoxydharz 
Collage on Dibond, Epoxy resin
Collage sobre Dibond, resina Epoxy
94 x 103 cm
Unikat / Unique piece / Original
Verkauft / Sold / Vendido 
'70                     Geboren in den 70ern in Hamm/ Westfalen 
1988                  Erste eigene Vernissage, Evangelisches Krankenhaus in  Hamm
1990                  Abitur am Beisenkamp – Gymnasium
ab 90                 Westfälische Wilhelms Universität Münster, Studium der Geographie
                         mit Schwerpunkt Raumplanung und BWL
1993 – Mitte 95  3 Semester OKurs an der FH Hannover Freie Kunst bei Professor
                         Macoto Fudjijama
                         Erstes eigenes Atelier
1995                  Entwicklung der ersten Städtebilder
1998                  Umzug  ins heutige Atelier
2012                  Reise nach USA : NY, LA, San Diego und San Francisco
ab 2015             Realisierung der Crazy Clouds mit Kunstharz…..ganz neue Technik,
                         Material und Motiventwicklung
Sie arbeitet und lebt in Münster. 
70s                    Born in the 70s in Hamm / Westfalen, Germany 
1988                  First solo exhibition and Opening in Hamm at the Evangelisches
                         Krankenhaus
1990                  Highschool Graduation at Beisenkamp – Gymnasium
from 1990          Studies Geography at the Westfälische Wilhelms Universität Münster
1993 – Mid' 95  3 semester at the FH Hannover School of Art with Professor 
                         Macoto Fudjijama
                         First own atelier
1995                  First Cistyscape Paintings 
1998                  Moves to a new Atelier
2012                  Trip to the US: NY, LA, San Diego und San Francisco
from 2015          New works, "Crazy Clowds" with Epoxy rein, a new technique,
                         materials and motif development.
She works and lives in Münster, Germany.
 '70                     Nacida en la década de los '70 en Hamm / Westfalia, Alemania
1988                   Primera exposición individual en Hamm, Hospital Evangélico
1990                   Graduación en secundaria el el BEisenkamp Gymnasium
A partir de 1990  Estudia Geografía en la Westfälische Wilhelms Universität en Münster. 
1995 - 1995        Estudia 3 semestres en la FH Hannover de Bellas Artes con el Prof.
                          Macoto Fudjijama. 
                          Primer estudio propio
1995                   Crea los primeros paisajes urbanos
1998                   Se muda a su taller actual
2012                   Viaja a los Estados Unidos : Nueva York, Los Angeles, San Diego
                          y San Francisco. 
desde 2015         Nuevos trabajos, los "Crazy Clouds" con resina Epoxy,
                          una nueva técnica, nuevos materiales y desarrollo de un nuevo tema.
Vive y trabaja en Münster, Alemania