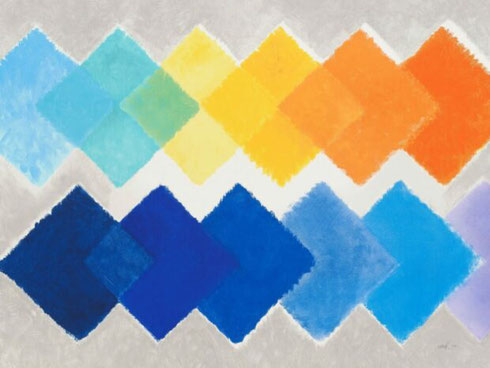 SPEKTRALER FARBKLANG

2022
Serigrafie mit 27 Sieben auf Büttenpapier 
Serigraph with 27 colors on handmade paper
Serigrafía de 27 colores sobre papel de tina 
148 x 196 cm
Ed. 60 ex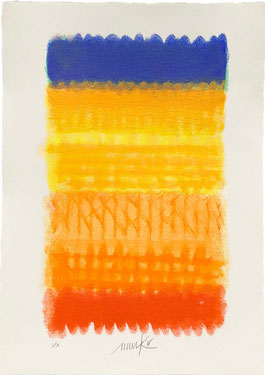 CHROMATIK
ROT-GELB-BLAU
2018
Serigrafie mit 32 Sieben auf Büttenpapier 
Serigraph with 32 colors on handmade paper
Serigrafía de 32 colores sobre papel de tina 
45 x 32 cm
Ed. 60 ex + 10 AP 
1931 im hessischen Lollar geboren, besucht Heinz Mack 1950-1953 die Staatliche Kunstakademie Düsseldorf (Staatsexamen) und schließt 1956 ebenfalls mit Staatsexamen das Studium der Philosophie an der Universität Köln ab.
Gemeinsam mit Otto Piene gründet er 1957 die Gruppe ZERO in Düsseldorf.
Neben der Teilnahme an der Documenta II (1959) und der Documenta III (1964) vertritt er auch die Bundesrepublik Deutschland 1970 auf der XXXV. Biennale in Venedig. Im selben Jahr erhält er eine Professur für einen Lehrauftrag in Osaka (Japan) und wird ordentliches Mitglied der Akademie der Künste, Berlin, der er bis 1992 angehört.
Heinz Mack ist mit wichtigen Preisen ausgezeichnet worden, u.a. mit dem Kunstpreis der Stadt Krefeld (1958), dem Premio Marzotto (1963), dem 1. Prix arts plastiques der 4. Biennale de Paris (1965), dem 1. Preis des internationalen Wettbewerbs Licht 79 der Niederlande (1979), dem Großen Kulturpreis des Rheinischen Sparkassenverbandes (1992) und dem Preis der Kulturstiftung Dortmund (2012). Im Jahr 2011 wird der Künstler mit dem 'Großen Verdienstkreuz mit Stern' der Bundesrepublik Deutschland geehrt. 2015 wurde Heinz Mack einstimmig vom Akademie-Senat zum Ehrenmitglied der Kunstakademie Düsseldorf gewählt. Die Stadt Düsseldorf verleiht Heinz Mack 2016 den Jan-Wellem-Ring. Im Jahr 2017 wird Heinz Mack die Moses Mendelssohn Medaille verliehen. 
Das zentrale künstlerische Thema von Heinz Mack ist das Licht; und seine gegenstandslosen Skulpturen und Bilder sind Medien hierzu.
Das Gesamtwerk ist außerordentlich vielseitig: Skulpturen aus verschiedenen Materialien, Lichtstelen, Lichtrotoren, Lichtreliefs und Lichtkuben. Ebenso gehören Malerei, Zeichnungen, Tuschen, Pastelle, Druckgrafik, Fotografie und bibliophile Werke sowie die Gestaltung von öffentlichen Plätzen, Kirchenräumen, Bühnenbildern und Mosaiken zu seinem Oeuvre.
In annähernd 300 Einzelausstellungen und vielen Ausstellungsbeteiligungen wurden bis heute seine Arbeiten gezeigt. Seine Werke sind in 136 öffentlichen Sammlungen vertreten. Zahlreiche Bücher und Kataloge sowie zwei Filme dokumentieren sein Schaffen.
Bis heute wurden die Arbeiten Heinz Macks in annähernd 300 Einzelausstellungen und vielen Ausstellungsbeteiligungen gezeigt. Seine Werke sind in 136 öffentlichen Sammlungen vertreten. Die folgende Zusammenstellung zeigt eine Auswahl von Einzelausstellungen seit 2010.
Heinz Mack, born in 1931 in Lollar (Hesse, Germany), attended the Academy of Arts Düsseldorf during the 1950s. In 1956 he also earned a degree in philosophy at the University of Cologne.
Together with Otto Piene he founded the group ZERO in 1957 in Düsseldorf.
Besides his participation at Documenta II (1959) and Documenta III (1964), he also represented The Federal Republic of Germany at the XXXVth Venice Biennale in 1970. In the same year he was invited to Osaka (Japan) as a visiting professor. He also became a full member of the Berlin Academy of Arts, to which he belonged until 1992.
Heinz Mack has been honored with major awards including the Art Prize of the City of Krefeld (1958), the Premio Marzotto (1963), the 1st Prix arts plastiques at the 4th Paris Biennale (1965), 1st prize in the international competition Licht 79 in the Netherlands (1979), the Große Kulturpreis des Rheinischen Sparkassen-Verbands (1992) and the Cultural Prize of the city of Dortmund's arts council (2012). He also received the Grand Federal Cross of Merit with Star of the Federal Republic of Germany in 2011. In 2015, Heinz Mack was unanimously voted an honorary member of the Kunstakademie Düsseldorf by the academy's senate. In 2016, the city of Düsseldorf bestowed the Jan-Wellem-Ring upon Heinz Mack. He received the Moses Mendelssohn Medal in 2017.
The central theme of Heinz Mack's art is light. Sculptures and pictures are the media of his multifaceted oeuvre. The exceptionally diverse complete works include sculptures made of different materials: light-stelae, light-rotors, light-reliefs and light-cubes. His oeuvre also involves paintings, drawings, India ink, pastels, graphics, photography and bibliophilic works. Another important aspect of Mack's work is the design of public spaces, church interiors, stage settings and mosaics.
His works have been shown in nearly 300 solo exhibitions and numerous other group exhibitions. They are also found in 136 public collections. Numerous books and two films document his work.
Heinz Mack lives and works in Mönchengladbach and Ibiza.
Heinz Mack nación en 1931 en Dollar (Hesse, Alemania). Estudió en la academia de Bellas Artes de Düsseldorf en la década de los 50. En 1956 se licenció también en Filosofía por la Universidad de Colonia. 
Junto a Otto Piene fundó en 1957 en Düsseldorf el grupo ZERO. 
Junto a su participación en la Documenta II (1959) y Documenta III (1964) también representó a la República Federal de Alemania en la XXXV Biennale de Venecia en 1970. En el mismo año fue invitado a Osaka (Japón) como catedrático visitante. Asimismo fue admitido en la Academia de Bellas Artes de Berlín, a la que perteneció hasta 1992. 
Heinz Mack ha sido galardonado con los reconocimientos más importantes incluyendo el Premio a las Artes de la ciudad de Krefeld (1958), el Premio Marzotto (1963), el 1er Premio de las Artes Plásticas en la IV Biennale de París (1965), el primer premio en la competición internacional Licht 79 en los Países Bajos (1979), el Gran Premio Cultura de la Rheinischen Sparkassen-Verbands (1992) y el premio del Consejo de Cultura de la ciudad de Dortmund (2012). Ha recibido la Gran Cruz Federal al mérito con una estrella de la República Federal Alemana en 2011. En 2015, Heiz Mack fue elegido de manera unánime como miembro honorario de la Academia de Bellas Arte de Düsseldorf. En 2016 la ciudad de Düsseldorf le otorgó el Jan-Wellem-Ring. Recibió la medalla Moses Mendelssohn en 2017. 
El tema central del arte de Heinz Mack es la luz. Las esculturas e imágenes son el medio de su polifacética obra. La diversidad exceptional de los trabajos incluye esculturas hechas de diferentes materiales : Estelas, rotores, relieves y cubos de luz. Su obra también incluye pinturas, dibujos, tintas de la India, pastel, obra gráfica, fotografía y obra bibliográfica. Otro aspecto importante de los trabajos de Mack es el diseño de espacios públicos, interiores de iglesias, escenografías y mosaicos.
Sus obras se han mostrado en más de 300 exhibiciones individuales y otras tantas colectivas. Incluidas den 136 colecciones públicas, numerosos libros y dos películas documentan su trabajo.
Heinz Mack live y trabaja entre Mönchengladbach (Alemania) e Ibiza (España).