"Archetyp König I"
Cortenstahl
Corten steel
Acero corten 
95x 60 x 15 cm 
Auf Anfrage / On request / consultar disponibilidad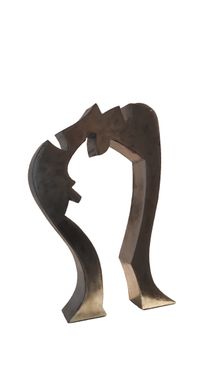 "Archetypischer Kopf 5"
Cortenstahl poliert
Polished corten steel
Acero corten pulido
68 x 43 x 10 cm 
Auf Anfrage / On request / consultar disponibilidad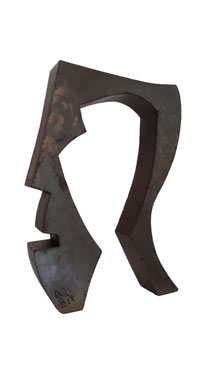 "Archetypischer Kopf" - 2018
Sortenstahl geschliffen und lackiert 
Corten steel, brushed and varnished
Acero corten pulido y barnizado 
51 x 35 x 9 cm 
Verkauft / Sold / Vendido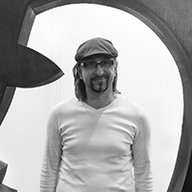 1968            Geboren in Schlaifhausen/Ofr.
                   Ausbildung zum Feinmechaniker, BOS Nürnberg
                   Studium an der TU-München
Seit 1991     entstehen in seinem Atelier Stahlskulpturen, Holzskulpturen und      
                   Kettensägen-holzschnitte
1991            gemeinsame Gründung ICHverlag
Seit  1995    freischaffend 
Guidos Häfner Skulpturen reduzieren Körper und Gesichtsformen auf wesentliche Elemente. Dabei schafft es der Künstler, eruptive Bewegungselemente einzigartig und unvergänglich darzustellen. Seine 'Archetypischen Köpfe' schaffen durch die perfekte Darstellung der drei Dimensionen einen eigenen Raum im Raum. Dies gelingt gleichermaßen beeindruckend sowohl in geschlossenen Räumen, als auch in der Natur. 
Seine Skulpturen erstellt Häfner unabhängig von der Gröe ca. 30 cm bis zu mehreren Metern hoch, in zwei Grundvarianten. Für den Innenbereich geschliffener und polierter Edelstahl, sowie Sortenstahl für den Aussenbereich, was der Skulptur seiner eigenen Aussage nach ermöglicht, 'in Würde zu altern'.
Skulpturen von Guido Häfner befinden sich an öffentlichen Plätzen u.a. in Kornach, Nürnberg, Erlangen, Bamberg, Mörfelden, Skulpturenweg Lamspringe, Würzburg, Mainz und in Taipeh/Taiwan. 
1968            Born in Schlaifhausen / Ofr.
                   Training as a precision mechanic, BOS Nuremberg
                   Studied at the TU Munich
Since 1991 steel sculptures, wooden sculptures and chainsaw woodcuts sculptures have
                   been created in his studio               
1991            joint foundation from ICHverlag
Freelance artist since 1995
Guido Häfner's sculptures reduce body and face shapes to essential elements. The artist manages to portray eruptive movement elements in a unique and everlasting way. His 'archetypal heads' create their own space in space through the perfect representation of the three dimensions. This is equally impressive both in closed spaces, as well as in nature.
Häfner creates his sculptures about 30 cm up to several meters high, regardless of the size, in two basic variants: for the interior brushed and polished stainless steel, as well as corten steel for outdoor use, which according to his own statement allows the sculpture to 'age with dignity'.
Sculptures by Guido Häfner can be found in public places. in Kornach, Nuremberg, Erlangen, Bamberg, Mörfelden, sculptures Lamspringe, Würzburg, Mainz and Taipei / Taiwan.
1968            Nació en Schlaifhausen / Ofr.
                   Formación como mecánico de precisión, BOS Nuremberg.
                   Estudió en la TU Munich
Desde 1991  Crea en su estudio esculturas de acero, y esculturas de madera así como    
                   xilografías con motosierra
1991            funda la editorial  ICHverlag
Trabaja como artista freelance desde 1995
Las esculturas de Guido Häfner reducen las formas del cuerpo y la cara a elementos esenciales. El artista logra retratar los elementos del movimiento eruptivo de una manera única y eterna. Sus 'cabezas arquetípicas' crean su propio espacio en el espacio a través de la representación perfecta de las tres dimensiones y crean una atmósfera impresionante tanto en espacios cerrados como en la naturaleza.
Häfner crea sus esculturas de aproximadamente 30 cm hasta varios metros de altura, independientemente del tamaño, en dos variantes básicas. Para el interior, acero inoxidable cepillado y pulido, así como acero de calidad para uso en exteriores, que, según su propia declaración, permite que la escultura "envejezca con dignidad".
Esculturas de Guido Häfner se pueden encontrar en lugares públicos. en Kornach, Nuremberg, Erlangen, Bamberg, Mörfelden, en el parque de esculturas en Lamspringe, Würzburg, Mainz y Taipei / Taiwán.