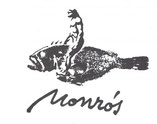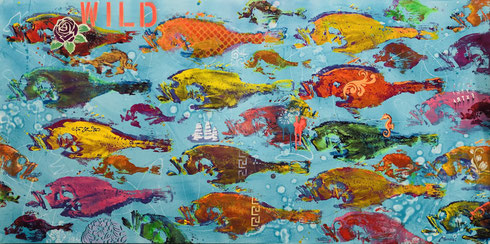 WILD, 2020
Mixed Media auf Leinwand  
Mixed media on canvas
Técnica mixta sobre tela
100 x 195 cm
2020-DM007k9-669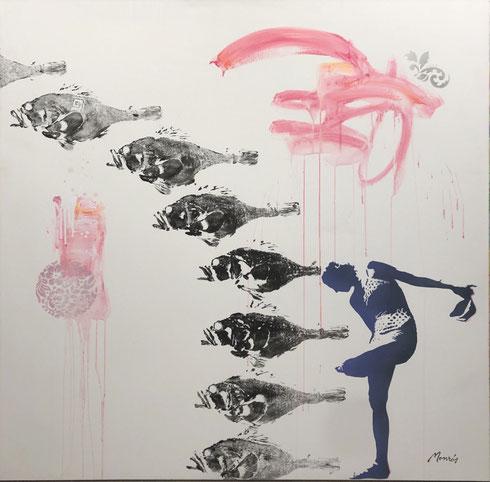 EASY GOING, 2020
Mixed Media auf Leinwand  
Mixed media on canvas
Técnica mixta sobre tela
150 x 150 cm
2020-DM005k9-669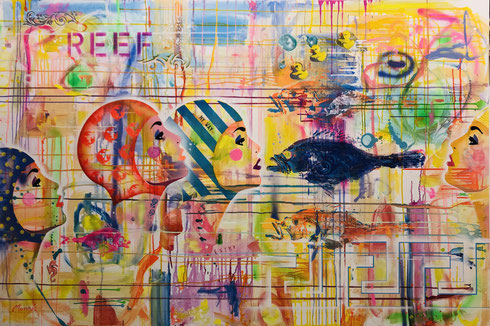 BREATH ON THE REEF, 2021
Mixed Media auf Leinwand  
Mixed media on canvas
Técnica mixta sobre tela
130 x 195 cm
2020-DM008k5-669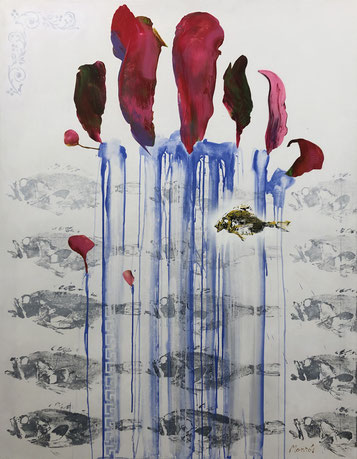 CORAL FLORAL TIME, 2016
Mixed Media auf Leinwand  
Mixed media on canvas
Técnica mixta sobre tela
146 x 115 cm
2016-DM003k9-669

WORKS ON PAPER
Mixed Media auf Papier  
Mixed media on paper
Técnica mixta sobre papel
70 x 100 cm
sold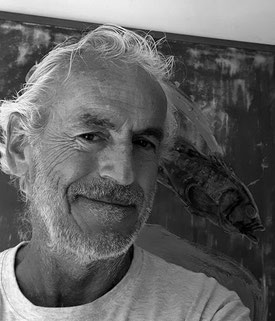 1960         geboren in Avinyó, Barcelona
1979-81    Veröffentlichung seiner ersten Comics in Barcelona
                Arbeiten zur Illustration von Comics, Plakaten und in der Werbung.
1982         Umzug auf die Mittelmeerinsel Menorca, Balearen.
1983-86     Erste Ausstellungen auf Menorca.
Ab 1986 Ausstellungen in Spanien: Mallorca, Menorca und Ibiza. Madrid, Sevilla, Barcelona, Málaga, Cádiz, San Sebastian. Deutschland in Düsseldorf, Berlin. Auch in Rotterdam, Niederlande. Dublin, Irland
Auch Ausstellungen in den USA: Florida, San Francisco, New York
2003         Neues Atelier und eigener Showroom. Erste Großformatarbeiten.
2005         Erstes Monrós Object-Book als Limited Edition veröffentlicht
2007         Künstlerischer Austauschaufenthalt in Südafrika, Madagaskar und Berlin
                Erste Serie von Gravuren
2013         Gemeinschaftsausstellung in Shanghai, China
David Monrós lebt und arbeitet auf Menorca
''Abgesehen von meiner künstlerischen Herkunft, innerhalb der Psycodelia und der unterirdischen Welt, die in diesen Momenten der Reife immer noch mitschwingen, wurde mein Umzug auf die Insel Menorca, nach einem urbanen Leben und einem Leben am Rande in Barcelona, durch den Einfluss des Meeres bestimmt hat meine Arbeit geprägt und durchdrungen. Das Meer als Bindeglied zu anderen Aspekten des Lebens und seiner Regression und darüber hinaus, meine kulturelle Wurzel ist zutiefst mediterran und bietet diesen Bonus an Licht und Vitalität.
Von der Tatsache, dass der Ursprung des Lebens in der Meeresumwelt begann, das Meer die Entwicklung von Zivilisationen, Beziehungen, Freizeit, Markt, Konflikten usw. beeinflusst, bis hin zu den Auswirkungen, die all dies auf die Meerestiere und -vegetation hat, macht mich mehr und kritischer in meiner Botschaft, den Fisch als Symbol und Begleiter auf der Reise mit der Menschheit in so kontroversen Aspekten wie Muße und Genuss dieser Welt zu verwenden, oder im Gegenteil, mit unserem Einfluss auf ihren Verfall. Diese Dualität und ständige verborgene Spannung lässt mich von Zeit zu Zeit das Bedürfnis nach spontaneren, viszeralen, respektlosen und weniger reflektierenden Prozessen verspüren, um die Kräfte in einer bestimmten therapeutischen und lebenswichtigen Übung auszugleichen.
Deshalb haben in meinem Universum auch andere Themen oder Visionen ihren Platz, die auf vergangene Einflüsse zurückgehen, wie Comics, Popart, Illustration oder Werbeplakate, unter anderem.
Anarchisch und chaotisch, der wechselnde Strudel, in dem wir leben, wie in der Kunst, ermutigt mich, verschiedene Stile oder "Modus Operandi" auszuprobieren und lässt mich experimentieren, seien es Techniken, Themen oder Medien, sowie Farbwechsel oder Chromatik als volle Ausübung der Freiheit''
David Monrós
1960         Born in Avinyó, Barcelona
1979-81    Publishes his first comics in Barcelona
                Works illustrating comics, posters and in advertising.
1982         Moves to the Mediterranean island of Menorca, Balearic Islands.
1983-86    First exhibitions in Menorca.
From 1986 Exhibitions in Spain : Mallorca, Menorca and Ibiza. Madrid, Sevilla, Barcelona, Málaga, Cádiz, San Sebastian. Germany in Düsseldorf, Berlin. Also in Rotterdam, The Netherlands. Dublin – Ireland
Also exhibitions in US : Florida, San Francisco, New York
2003          New Atelier and own showroom. First big format works.
2005          First Monrós Object-Book published as a Limited Edition 
2007          Artistic exchange stay in Southafrica, MAdagascar and Berlin
                 First series of engravings         
2013          Collective Exhibition in Shanghai, China
David Monrós lives and works in Menorca
"Aside from my artistic origins, within psycodelia and the underground world, which still resonate in these moments of maturity, my move to the island of Menorca, after an urban life and living on the edge in Barcelona, was determined by the influence that the sea has exerted and permeated in my work. The sea as a link to other aspects of life and its regression and further, my cultural root being deeply Mediterranean, providing that bonus of light and vitality.
From the fact that the origin of life began in the marine environment, the sea influencing the development of civilizations, relationships, leisure, market, conflicts, etc., to the impact that all this has on marine wildlife and vegetation, makes me more and more critical in my message, using the fish as a symbol and companion on the journey with humankind in aspects as controversial as leisure and the enjoyment of this world, or on the contrary, with our influence on its deterioration. This duality and constant hidden tension makes me feel the need, from time to time, for more spontaneous, visceral, irreverent, and less reflective processes to balance forces in a particular therapeutic and vital exercise.
That is why other themes or visions have a place in my universe, going back to past influences, such as comics, popart, illustration or advertising posters, among others.
Anarchic and chaotic, the changing maelstrom in which we live, like in Art, encourages me to test different styles or "modus operandi", allowing me to experiment, be it techniques, themes or mediums, as well as palette changes or chromaticism as a full exercise of freedom".                              
Davin Monrós
1960         Nace en Avinyó, Barcelona
1979-81    Publica sus primeros cómics en Barcelona
                Trabajos de ilustración de cómics, carteles y publicidad.
1982         Se traslada a la isla mediterránea de Menorca, Islas Baleares.
1983-86    Primeras exposiciones en Menorca.
Desde 1986 Exposiciones en España: Mallorca, Menorca e Ibiza. Madrid, Sevilla, Barcelona, Málaga, Cádiz, San Sebastián. Alemania en Düsseldorf, Berlín. También en Rotterdam, Holanda. Dublín, Irlanda
También exposiciones en EE.UU.: Florida, San Francisco, Nueva York
2003          Nuevo Atelier y showroom propio. Primeras obras de gran formato.
2005          Primer libro-objeto de Monrós publicado como edición limitada
2007          Estancia de intercambio artístico en Sudáfrica, Madagascar y Berlín
                 Primera serie de grabados
Exposición Colectiva 2013 en Shanghai, China
David Monrós vive y trabaja en Menorca
'Aparte de mis orígenes artísticos, dentro de la psicodelia y el mundo underground, que aún resuenan en estos momentos de madurez, mi traslado a la isla de Menorca, tras una vida urbana y vivir al límite en Barcelona, estuvo determinado por la influencia que el el mar ha ejercido e impregnado en mi obra. El mar como vínculo con otros aspectos de la vida y su regresión y más allá, siendo mi raíz cultural profundamente mediterránea, aportando ese bono de luz y vitalidad.
Desde que el origen de la vida comenzó en el medio marino, el mar influyendo en el desarrollo de civilizaciones, relaciones, ocio, mercado, conflictos, etc., hasta el impacto que todo esto tiene en la fauna y vegetación marina, me hace más y más crítico en mi mensaje, utilizando al pez como símbolo y acompañante en el viaje con la humanidad en aspectos tan controvertidos como el ocio y el disfrute de este mundo, o por el contrario, con nuestra influencia en su deterioro. Esta dualidad y constante tensión oculta me hace sentir la necesidad, de vez en cuando, de procesos más espontáneos, viscerales, irreverentes y menos reflexivos para equilibrar fuerzas en un determinado ejercicio terapéutico y vital.
Es por eso que otros temas o visiones tienen cabida en mi universo, remontándose a influencias pasadas, como el cómic, popart, ilustración o carteles publicitarios, entre otros.
Anárquica y caótica, la vorágine cambiante en la que vivimos, como en el Arte, me anima a probar diferentes estilos o "modus operandi", permitiéndome experimentar, ya sean técnicas, temas o medios, así como cambios de paleta o cromatismo como pleno ejercicio de la libertad'
David Monrós