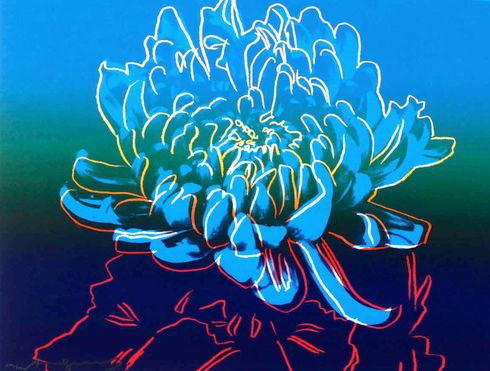 KIKU 307
Siebdruck
Screenprint
Serigrafia
     20 x 26 cm 
1983 Ed. 300 Ex
Signiert / Signed / Firmado
VERKAUFT / SOLD / VENDIDO 
Andy Warhol (* 6. August 1928 - 22. Februar 1987) war ein US-amerikanischer Künstler, Regisseur und Produzent, der eine führende Rolle in der bildenden Kunstbewegung, der Pop-Art, einnahm. Seine Arbeiten erforschen die Beziehung zwischen künstlerischem Ausdruck, Celebrity-Kultur und Werbung, die in den 1960er Jahren florierte, und umfassen eine Vielzahl von Medien, darunter Malerei, Siebdruck, Fotografie, Film und Skulptur. Zu seinen bekanntesten Werken zählen die Siebdruckbilder Campbell's Soup Cans (1962) und Marilyn Diptych (1962), der Experimentalfilm Chelsea Girls (1966) und die Multimedia-Events, die als Exploding Plastic Inevitable (1966-67) bekannt sind.
Geboren und aufgewachsen in Pittsburgh, verfolgte Warhol zunächst eine erfolgreiche Karriere als Illustrator. Nachdem er in den späten 1950er Jahren in verschiedenen Galerien ausgestellt wurde, begann er als einflussreicher und kontroverser Künstler anerkannt zu werden. Sein New Yorker Studio, The Factory, wurde zu einem bekannten Treffpunkt, der angesehene Intellektuelle, Dragqueen, Dramatiker, böhmische Straßenleute, Hollywood-Berühmtheiten und reiche Gönner zusammenführte. Er förderte eine Sammlung von Persönlichkeiten, die als Warhol-Superstars bekannt sind, und hat den viel verwendeten Ausdruck "15 Minuten Ruhm" geprägt. In den späten 1960er Jahren leitete und produzierte er die experimentelle Rockband The Velvet Underground und gründete das Interview-Magazin. Er verfasste zahlreiche Bücher, darunter The Philosophy of Andy Warhol und Popism: The Warhol Sixties. Er ist auch als ein schwuler Mann bemerkenswert, der vor der schwulen Befreiungsbewegung offen als solcher lebte. Nach einer Gallenblasenoperation im Jahr 1987 verstarb Warhol im Februar desselben Jahres im Alter von 58 Jahren.
Warhol war Gegenstand zahlreicher Retrospektivausstellungen, Bücher sowie Spiel- und Dokumentarfilme. Das Andy-Warhol-Museum in seiner Geburtsstadt Pittsburgh, das eine umfangreiche ständige Sammlung von Kunst und Archiven besitzt, ist das größte Museum in den Vereinigten Staaten, das einem einzelnen Künstler gewidmet ist. Viele seiner Kreationen sind sehr sammelbar und sehr wertvoll. Der höchste Preis, der jemals für ein Warhol-Gemälde gezahlt wurde, beträgt 105 Millionen US-Dollar für eine Leinwand von 1963 mit dem Titel Silver Car Crash (Double Disaster); Seine Werke umfassen einige der teuersten Gemälde, die jemals verkauft wurden. Ein 2009er Artikel in The Economist beschrieb Warhol als "Leitfigur des Kunstmarktes"
Photo from : https://reports.idiomasblendex.com/andy-warhol-el-dios-del-pop-art/
Andy Warhol, born Andrew Warhola; August 6, 1928 – February 22, 1987) was an American artist, director and producer who was a leading figure in the visual art movement known as pop art. His works explore the relationship between artistic expression, celebrity culture, and advertising that flourished by the 1960s, and span a variety of media, including painting, silkscreening, photography, film, and sculpture. Some of his best known works include the silkscreen paintings Campbell's Soup Cans (1962) and Marilyn Diptych (1962), the experimental film Chelsea Girls (1966), and the multimedia events known as the Exploding Plastic Inevitable (1966–67).
Born and raised in Pittsburgh, Warhol initially pursued a successful career as a commercial illustrator. After exhibiting his work in several galleriesin the late 1950s, he began to receive recognition as an influential and controversial artist. His New York studio, The Factory, became a well-known gathering place that brought together distinguished intellectuals, drag queens, playwrights, Bohemian street people, Hollywood celebrities, and wealthy patrons. He promoted a collection of personalities known as Warhol superstars, and is credited with coining the widely used expression "15 minutes of fame." In the late 1960s, he managed and produced the experimental rock band The Velvet Underground and founded Interview magazine. He authored numerous books, including The Philosophy of Andy Warhol and Popism: The Warhol Sixties. He is also notable as a gay man who lived openly as such before the gay liberation movement. After a gallbladder surgery in 1987, Warhol died in February of that year at the age of 58.
Warhol has been the subject of numerous retrospective exhibitions, books, and feature and documentary films. The Andy Warhol Museum in his native city of Pittsburgh, which holds an extensive permanent collection of art and archives, is the largest museum in the United States dedicated to a single artist. Many of his creations are very collectible and highly valuable. The highest price ever paid for a Warhol painting is US$105 million for a 1963 canvas titled Silver Car Crash (Double Disaster); his works include some of the most expensive paintings ever sold. A 2009 article in The Economist described Warhol as the "bellwether of the art market"
Andrew Warhola (Pittsburgh, 6 de agosto de 1928 - Nueva York, 22 de febrero de 1987), comúnmente conocido como Andy Warhol, fue un artista plástico y cineasta estadounidense que desempeñó un papel crucial en el nacimiento y desarrollo del pop art. Tras una exitosa carrera como ilustrador profesional, Warhol adquirió fama mundial por su trabajo en pintura, cine de vanguardia y literatura, notoriedad que vino respaldada por una hábil relación con los medios y por su rol como gurú de la modernidad. Warhol actuó como enlace entre artistas e intelectuales, pero también entre aristócratas, homosexuales, celebridades de Hollywood, drogadictos, modelos, bohemios y pintorescos personajes urbanos.
Warhol utilizó medios diferentes para crear sus obras, como el dibujo a mano, la pintura, el grabado, la fotografía, la serigrafía, la escultura, el cine y la música. El Museo Andy Warhol en su ciudad natal, Pittsburgh, Pensilvania, contiene una amplia colección permanente de arte. Resulta ser el museo más grande de Estados Unidos dedicado a un solo artista.
Uno de los aportes más populares de Warhol fue su declaración: «En el futuro todo el mundo será famoso durante 15 minutos». Esta frase de cierta manera vaticinó el actual poder de los medios de comunicación y el apogeo de la prensa amarilla y de los reality shows.
Fue un personaje polémico durante su vida —algunos críticos calificaban sus obras como pretenciosas o bromas pesadas— y desde su muerte en 1987 es objeto de numerosas exposiciones retrospectivas, análisis, libros y documentales, además de ser recreado en obras de ficción como la película I Shot Andy Warhol (Mary Harron, 1996). Al margen de la fama y de la polémica, está considerado como uno de los artistas más influyentes del siglo xx debido a su revolucionaria obra.